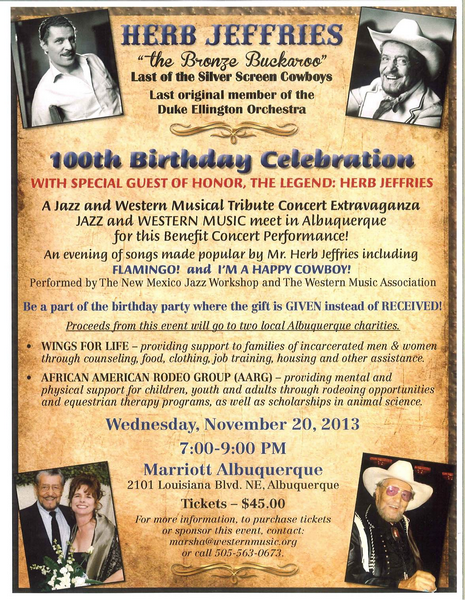 In February 2007, three local non-profit organizations, Buffalo Soldiers of New Mexico, Navajo Elks Lodge #863, and New Mexico Horizons, Inc., joined together and formed the African American Rodeo Group (AARG) and in 2009 were joined by Native Americans. Membership is open to the public.

As part of our mission, rodeoing is only the start of the future for the AARG. We will award scholarships to high school and undergraduate students majoring in Animal Sciences and other related fields. Some proceeds will also go toward educational programs about the historical contributions of African and Native Americans in developing the "WEST". We will address the need for specialized training in developing Riding Clubs, Equestrian Teams, Large Animal care, as well as the pathway to become certified in professional rodeo events. Equine Assisted Learning (EAL) is a new feature offered by our organization.

We invite you to view our website at www.africanamericanrodeogroup.com for activities, sponsors, church listings, membership application, as well as rodeo news. For questions, please call us at 505-232-2616.

For our newsletter THE NEW BREED you can call or email us at newbreednewsletter@gmail.com for locations to obtain copies of The New Breed Newsletter.

We need independent contractors for advertising sales and graphic designs for the services we provide such as: flyers, souvenir booklets, sports souvenir booklets, brochures and custom designed funeral obituary programs.

New Mexico Universities that offer rodeo scholarships as a sport for men and women are: New Mexico State, Eastern New Mexico, New Mexico Highlands and Western New Mexico.

525 San Pedro N.E.
Ste. 213, Box 208
Albuquerque, NM 87108
---