Eddie W. Curry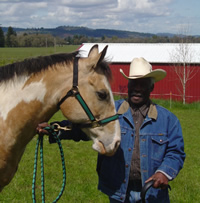 Rev. Eddie W. Curry was born in Bryan, TX in 1930. He has been bull riding and calf roping since the age of 8. In 1947, he moved to Roswell, NM on the rodeo circuit until retirement in 1960. During 1996 through 1998, he participated in private riding and horse breaking in Oregon. He is currently a retired business owner and associate minister at Bethlehem Missionary Baptist Church where he "rope", "rustle", and break "souls" for the Lord. Rev. Curry states that he is still an "ole" Cowboy that wears boots and jeans everywhere he goes.
- Back to Top -
Mae K. James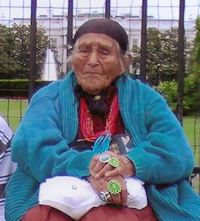 Mae K. James is a "Dine" from Sheepspring, New Mexico. She is 97 years old. She is a red house clan and born to work around the house.
She's been a hard working lady all through her life. She has seen lots of changes in her life.
She's a rancher of sheep, cattle, and horses. She is also a good two Gray Hill rug weaver. Mae is also a medicine woman. She performs Beauty Way ceremonials. She helps a lot of young people to make a better life with her blessing by praying for them. She also knows many herbs for healing.
Mae has good horsemanship although her injury is from horses. She still rode horses until the age of 89. She tells her grandchildren to never smoke or drink alcohol and never be lazy. She chops wood and did a lot of man work. That's the key to a long healthy life. She is not diabetic, but has bone aches. She still has a good memory and continues to use her blessing.
- Back to Top -
Bill Picket

Even the citizens of Marland have forgotten the names of the people buried on nearby White Eagle Monument Hill. White Eagle, of course is remembered. He was a chief of the Ponca tribe. The Miller Brothers of 101 Ranch fame erected the monument in his name.
Bill Pickett rests here too, a name so well known in rodeo that rodeo people call the graveyard "Bill Pickett Hill," bestowing upon him a prominence they feel atones for the disregard of others buried at the site.The grave is marked with a sandstone tombstone that reads: "Bill Pickett-C.S.C.P.A." The letters stand for Cherokee Strip Cow Punchers Association. Pickett, a black man who has been given credit for "inventing"bull dogging, died in the spring of 1932 after an altercation with a bronco in a 101 Ranch corral. He was 62.
Pickett worked for the Millers, who not only had the big Oklahoma ranch (the 101) but also a big show (101 Ranch Wild West Show), for most of his adult life. But his remarkable story begins not in Oklahoma but in south central Texas near Taylor, Williamson County.
His antecedents were of mixed "Negro, Caucasian and Cherokee Indian blood," according to Colonel Bailey C. Hanes, "a not uncommon blend [in the 1800's] in the upper south." In his book, Bill Pickett, Bulldogger (University of Oklahoma Press, Norman, 1977), Hanes concludes that "Thomas Jefferson Pickett was born in Louisiana and was 26 years old in 1880, which means that one of the Pickett women was pregnant at the time the wagons headed West and that he was born at some unknown place in 1854 as the caravan passed through Louisiana."
According to Hanes" research, "the caravan was made up of 48 whites and 52 Negro slaves." Thomas Jefferson Pickett was Bill Pickett's father. He and Bill's mother, Mary, produced13 children. Five of the boys, including Bill, may have been the first black entrepreneurs in Taylor, where they operated a business called "Pickett Bros. Bronco Busters and Rough Riders Ass'n."
Bill was born in 1870, five years after the Civil War ended and the slaves of the Confederacy were emancipated. By the time he was 16, he was becoming interested in horses, cattle and dogs.
Not many writers emphasize the influence cattle dogs had on the young man, but, I believe, if it were not for these dogs, he might never have been the famous bite 'em style bulldogger he was. There were "heel" dogs and "catch" dogs. The latter went to a critter's head, while the former harassed the heels. Cowboys were used to such chases because it was next to impossible to swing ropes, or make cow catches in the thick tangles of brush that covered much of Williamson County.
As young Bill watched the cowboys, working on ranches or in holding corrals, he wondered to himself why so many critters got away If they would just do it like they dogs, he must have thought as he and his brothers organized their business: catching and bringing back wild cattle and breaking and gentling wild horses.
Exactly where Bill Pickett first grabbed a steer's lip with his teeth-like the dogs did it-is not known. You hear stories that he did it in the brush, on the range, in a holding No. But wherever he did it, he was the first to do it and the first to be promoted in a specialty act.
In talking to old-timers, much of the fanciful element is reduced. They figure that Pickett went down or! the back of a cow brute, stopped it, then bit into lip or nose and just fell away, dropping the steer by twisting its neck and assisted by the attrition of leverage.
But an "eyewitness account" in the Tulsa World, Oct. It, 1931, described his fear in "shows" (there were no rodeos in those days) like this: "The steer longed into the arena ... his Pickett's horse plunged full speed after it . the rider leaped from the saddle. He turned a complete somersault along the length of the steer's back, flying out and down over the curved horns... to fasten his teeth in the side of the steer's mouth. With sheer strength he dragged the running behemoth's head to the tan-bark, thrust its horn in the ground, and forward momentum threw the steer hocks over horns in a somersault of its own. "
"He'd be killed or going to the hospital," commented one veteran rodeoer after I read him this early account of what Pickett was supposed to have done Before his death a few years back, Yakima Canutt, one of the best of the pioneer rodeo gang, told me that "hoolihaning" was so dangerous to both contestants and stock that it was outlawed, following a rash of injuries and death .
Hoolihaning is described by Ramon F. Adams in Western Words (University of Oaklahoma Press, Norman, 1944) like this: " The act of leaping forward and alighting on the horns of a steer in bulldogging in such a manner as to knock the steer down without having to resort to twisting him down with a wrestling hold. The practice is barred at practically all recognized rodeos."
Mrs. William Paxton Irvine once confirmed that "Bill Pickett was riding with my father, Lee Moore, near Thoundale, Texas, in the late 1880's, They were rounding up cattle and one steer was hard to turn. Bill took after the steer and bulldogged it." (How he did this was not elaborated on, but he must have used the bite-'em style because Moore, who had a theatrical bent, booked Pickett in Texas and other states, describing him as a "bulldogger that did it with his teeth."
In addition to Moore, whose agreement with Pickett ended in 1903, the black man was "shown" by the promoter Dave McClure, again as far away from his home turf as Cheyenne and the shows in North Dakota.
His success and notoriety as the "only professional bulldogger in the world," caught the attention of the Miller Brothers whose 101 Ranch Wild West Show was fast becoming the best such entertainment in the country. In 1905, they hired Pickett for his popular act and brought him and his entire family from Texas to Oklahoma, housing them at 101 Ranch headquarters at Bliss (now Marland).
Of course, Pickett was on the road a lot, billed as "The Dusky Demon" on show flyers. When not on the road he did all sorts of chores to help the sell-sufficiency of the huge ranch. He picked cotton, maintained fences, built corrals, and broke and gentled horses. He was particularly good with horses, according to his great grandson Frank Phillips.
" My grandmother, Bessie Pickett Phillips," said Phillips, "told me a lot about Bill ... how he pretended to be 'the man of steel' but how he was really hurting, in later years, following work each day.
" I think he was exploited in a way. He was black and yet he was unique in what he did. But then in those days, all black athletes were exploited in tine one way or another. . especially prize fighters."
There was the Mexico City incident in 1908 The Millers should have known better, should have anticipated the consequences, when they pitted the Dusky Demon against the fighting bull, Frijoli Chiquita. But they did it anyway and nearly lost their lives as the crowd in the El Toro National Bullring vented its wrath.
Everything the onlookers could lay hands on - cushions, rocks bottles, knives, fruit, cans, etc., were tossed into the ring. (They were outraged at what they considered a burlesque of their national spectacle as Pickett, shaken like a rag doll, just hung on for dear life.)
Frank Phillips seems to think that the intervention of Mexican troops was the only thing that saved them. President Porfirio Diaz was in the stands, and realizing the crowd was fast becoming dangerous and uncontrollable ordered the army to invade the ring and restore order.
Certainly Bill Pickett is one of those colorful characters in the history of Wild West Shows and rodeos. And, therefore, he was inducted into the Rodeo Hall of Fame, Oklahoma City, in 1971, the first black rodeo athlete to be so honored.
BIBLIOGRAPHY: Bailey C. Hanes, Bill Pickett, Bulldogger: The Biography of a Black Cowboy (Norman: University of Oklahoma Press, 1977). Jerrold J. Mundis He Took the Bull by the Horns; American Heritage, December 1967.
© 2007 Bill Pickett Invitational Rodeo.
- Back to Top -
Cedric Hatton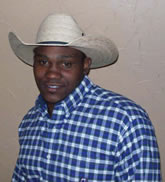 Cedric Hatton was born in Houston, TX, where he calf-roped since the aage of 7. He graduated from Royal High Scool in Brookshire, TX in 2002. He then moved to New Mexico to attend Eastern New Mexico University on a full scholarship, where he also rodeoed. He graduated in 2006 and then moved to Albuquerque, NM. He joined the BPIR in 2008. He is currently settled in Belen, NM and working as an HVAC Technician.
- Back to Top -
Cheryl "Sparkle" Mosley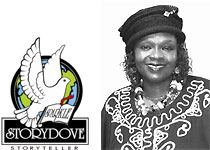 Cheryl "Sparkle" Mosley also known, as the "STORY DOVE" is a professional storyteller, writer, teaching artist, motivational speaker and workshop facilitator that entertain, educates, motivates and enlightens all ages for all occasions.
She is a contributing author in the book entitled "Pot Likker Stories for Teachers and Learners." Also, she is the playwright/producer of "Legacies of Courage," a historical dramatic portrayal of women of courage.
Founder of a youth program that promotes exploration and coping skills through creativity and self-expression called Story Dove Creative Connections.
Facilitates and designs workshops to meet specific topics, themes, curriculum standards, guidelines, overall goals and objectives and time constraints for schools, organizations, corporations, etc.
Former producer and host of the Cable TV show "Express It!" and the weekly radio show "Story Dove."
Sparkle is the past National President of the National Association of Black Storytellers, Inc. (NABS) and former State President of the North Carolina Association of Black Storytellers, Inc. (NCABS).
Sparkle currently resides in Charlotte, NC.
- Back to Top -
Jackson Sundown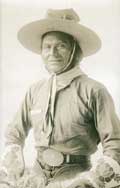 The horse became a very important part of the Nez Perce people. Not only for hunting in buffalo country, but the horse was a warrior. Nez Perce learned to breed and work with horses. Waaya-Tonah-Toesits-Kahn (Jackson Sundown) from an early age worked and cared for horses. Waaya-Tonah-Toesits-Kahn was a famous all-around cowboy, horseman, and excellent rider and breeder of horses.
The Nez Perce War of 1877 began and Waaya-Tonah-Toesits-Kahn was 14 years old. Waaya-Tonah-Toesits-Kahn and Sam Tilden (Suhm-Keen) both were assigned to attend to the horses in the evening and herd the horses while the tribe decamped. After the Nez Perce war ended Waaya-Tonah-Toesits-Kahn retreated to Canada with a small band of cold, hungry and injured Nez Perce. It is believed that Waaya-Tonah-Toesits-Kahn stayed with the Sioux (Sitting Bull's camp in Canada) about two years, then crossed the border into Washington. He then went into Montana, married and had two daughters.
Waaya-Tonah-Toesits-Kahn became known as Jackson Sundown and developed a well know reputation as a skilled horseman.
In 1910, Jackson Sundown moved back to Idaho. And in 1912 he married Cecelia Wapshela, and they lived on her ranch located at Jacques Spur, six miles east of Lapwai.
Sundown became a well known all-round rodeo rider. Jackson Sundown was going to rodeos all over the northwest. In 1912 it is recorded that Jackson Sundown (at the age of 49) entered rodeo events in Canada and Idaho (Culdesac, Orofino, Kamiah and Grangeville). Sundown became a favorite at these rodeos because he was tall, lean and handsome, he wore his hair in braids tied under his chin, and he always wore bright colored shirts.
In 1914, Sundown was having much success as an all-around rodeo rider. Other contestants pulled out of rodeos because Sundown was riding and they knew he would win. As a result the rodeo managers decided to hire Sundown to exhibition ride for $50.00 a day to entertain the crowds.
In 1915, Sundown (at age 52) went to Pendleton Oregon and placed third. Sundown decided to retire from rodeo after the Pendleton Roundup. In 1916 a sculptor, Alexander Phimister Proctor (who was sculpting Sundown at the time), persuaded Sundown to enter the 1916 Roundup in Pendleton, Oregon and paid his entrance fee. Sundown made it to the saddle bronc semi-final round and then rode "Casey Jones" to move into the finals with two other cowboys (Rufus Rollen and Bob Hall). Rollen and Hall both had excellent rides. As Sundown eased onto Angel's back for his final ride, the blindfold was removed from Angel. Angel tried to whirl and leap to throw Sundown off. All Sundown's years as a child in the Wallowa's riding, and his career in Montana as a horseman, and his rodeo experience showed that day. It is said that Sundown became one with the horse. As Angel tried one last attempt at throwing Sundown off, Sundown fanned his hat at the horse. And then the signal of the end of the ride. Jackson Sundown, Waaya-Tonah-Toesits-Kahn, was the 1916 World Champion Bronc Rider.
Sundown made his last public appearance in 1917 for Governor Moses Alexander.
In 1923, Jackson Sundown died of pneumonia, he was buried at Slickpoo Mission Cemetery near Jacques Spur. Later a stone monument was placed there to remember the Nez Perce warrior and horseman Waaya-Tonah-Toesits-Kahn.
The memorial reads:
Jackson Sundown
Waaya-Tonah-Toesits-Kahn
Nez Perce Born in Montana 1863
Died at Jacques Spur, December 18,1923
At the age of 60 years
Jackson Sundown rode with Chief Joseph in 1877. He performed in many rodeos in the Northwest and Canada. In 1916 he won the World's Championship at Pendleton and an ovation never before equaled.
Courtesy of
http://www.nezpearce.org
.
- Back to Top -